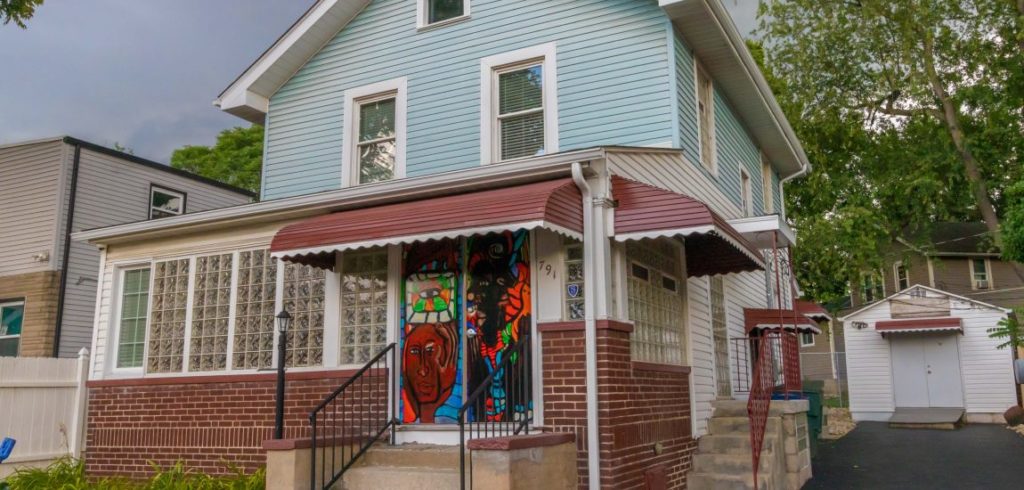 My friend Jane Acri in Columbus, Ohio, alerted me earlier this year to the wonderful fact that Aminah Robinson's former home in Columbus would be preserved for use as an artist residency space for African American artists, thanks to the good work of the Columbus Foundation, the Columbus Museum of Art, and the Greater Columbus Arts Council. Now, the renovation is finished and the house is ready for its first resident, artist Johnathan Payne.
I visited Aminah in her home in 2005, when I was supervising the painting of a mural featuring one of her artworks. She generously invited me and a few of the student mural painters to enter her artistic sanctuary, and it was a truly incredible place – a small house in the Shepard neighborhood on Columbus' east-side, crowded with her creations and collections and passions, every inch of wall and door and baseboard and cabinet decorated with colors, words, pictures, and sculptures made by her hands. It was as if the inside of her home were one of her artworks: drawn, painted, stitched, buttoned, glued, carved. There were so many artworks and ongoing projects everywhere, one could hardly move through the space, and there was little room to set down even a teacup! She showed us a large, glossy book about Leonardo da Vinci, her current obsession, and talked to the students about their experiences at CCAD (the Columbus College of Art & Design), her alma mater.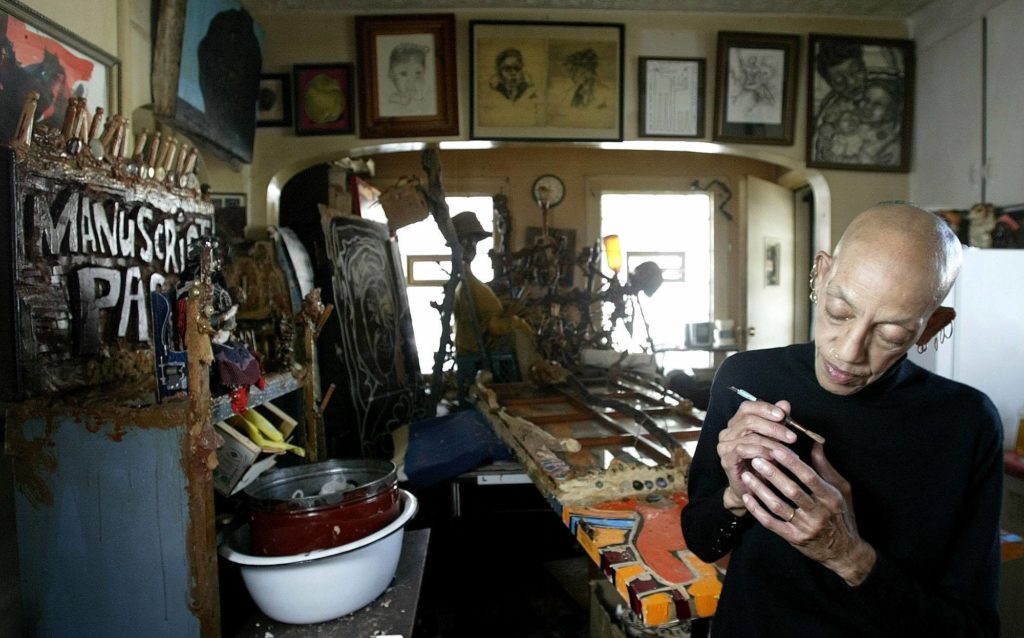 When it came time for us to leave, we had this photo taken on her front stoop: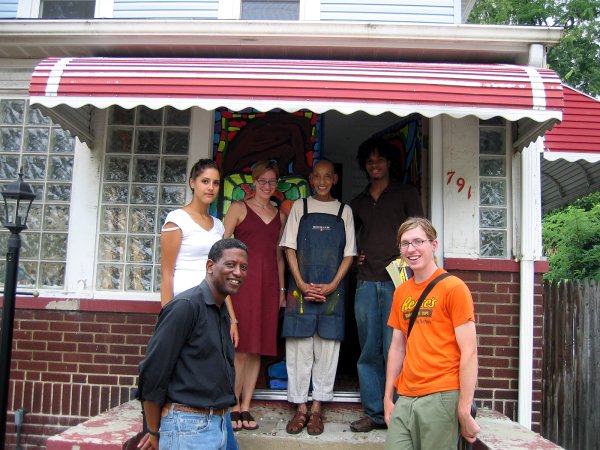 Aminah passed away in 2015, and left her home and artistic estate to the Columbus Museum of Art. Our mural was torn down last year so that a multi-story parking garage could be built on its site, and its loss was a wound to me and felt like a disrespect to the African American community in Columbus, whose history it depicted. So this news of Aminah's house feels good, like a righting of wrongs.
Visit Columbus Underground for coverage of this story and photographs of the renovated house:
Columbus Foundation Awards Grant to Preserve Aminah Robinson's Home
Aminah Robinson Artist Residency Unveiled